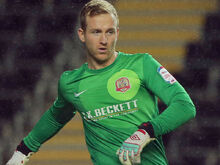 Benjamin Robert "Ben" Alnwick (born 1 January 1987) is an English professional footballer who plays as a goalkeeperfor Peterborough United.
Alnwick started his career at Sunderland in 2004, having progressed through the club's youth ranks, but never fully established himself in the first team. He left for Tottenham Hotspur in January 2007, having made 19 league appearances, but never made more than a single league appearance for Tottenham. Instead, he spent several loan spells away from the club, at Luton Town, Leicester City, Carlisle United, Norwich City, Leeds United, Doncaster Roversand Leyton Orient. He switched permanently to Barnsley in July 2012, and made 12 appearances, but was deemed surplus to requirements in September 2013, and his contract was terminated by mutual consent.
Ad blocker interference detected!
Wikia is a free-to-use site that makes money from advertising. We have a modified experience for viewers using ad blockers

Wikia is not accessible if you've made further modifications. Remove the custom ad blocker rule(s) and the page will load as expected.