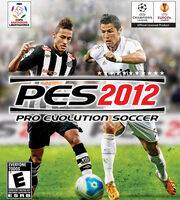 Pro Evolution Soccer 2012 (oficialmente abreviado PES 2012 y conocido como World Soccer: Winning Eleven 2012 en Japón).
El 24 de agosto de 2011 Konami lanzó el primer demo del juego. En este se podían disputar encuentros amistosos entre cuatro equipos europeos además de jugar partidos entre los dos finalistas de la Copa Libertadores 2011, Santos y Peñarol, en la modalidad de destinada a este torneo. También es posible practicar parte del nuevo sistema de juego en la sección de entrenamiento. En tanto el 2º demo, fue lanzada 4el 14 de septiembre, y cuenta con 6 equipos. (No Disponible Para las Consolas PS2 y Wii)
Ad blocker interference detected!
Wikia is a free-to-use site that makes money from advertising. We have a modified experience for viewers using ad blockers

Wikia is not accessible if you've made further modifications. Remove the custom ad blocker rule(s) and the page will load as expected.